Josef Astor was born in Ohio. He received a BFA from Syracuse, and soon after moved to New York where he worked as a photo assistant for Gosta Peterson, Deborah Turbeville, Irving Penn, and a brief time, with Angus McBean. In 1985, he opened up his own studio and began his historically informed, theatrically staged style that drew upon various influences from his life; studies in art history, his father's medical practice, science, and magic. Astor has done advertising campaigns for clients as AT&T, IBM, Hitachi, Phillip Morris, Geoffrey Beene, Bergdorf Goodman, Absolut Vodka and Ralph Pucci. His work has appeared in such magazines as The New Yorker, Vanity Fair, The New York Times Magazine, GQ, House and Garden and Bomb. In 1996, he was the recipient of the Infinity Award for 'Applied Photography' from the International Center of Photography. Josef held his first show, "Displayed" with Ralph Pucci in the early 90's and has an upcoming show with us this May. This show will be traveling to Miami for Art Basel and LA in 2019.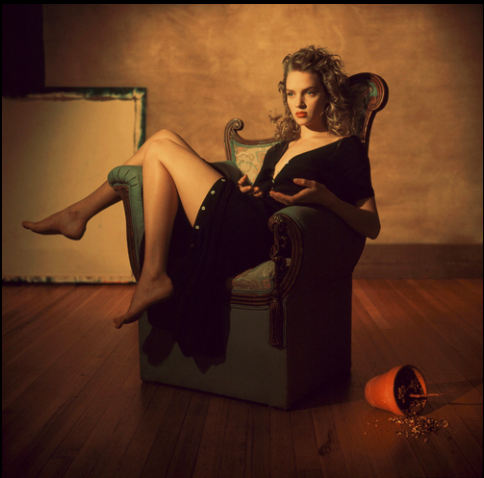 How much of your creative process is planned and how much evolves naturally?
Most people who see my photos assume they are carefully planned out, as they are staged set pieces and involve many elements.
But the truth is that the key elements of each image are most often slipped in at the last minute. We book some props in advance, but most are never used (to the dismay of the stylist) and I usually find something already in my studio/cabinet of curiosities that better suits the concept. So it's not an entirely intuitive process, though I consciously allow for some gaps in order to complete the image in the moment. Unbeknownst to viewers, many photos I've made reflect the energy in the studio at that moment.
Note: The young Uma Thurman image seen here is an example of that. This photo has nothing at all to do with the concept Vanity Fair had assigned. The image became an homage to a painting by Balthus of a defiant, obstinate young girl.
How do you feel about the changes in photography that have taken place over the last few years? ie. the influence of technology, digital manipulation, printing ect.
Most of my work was done with film using minimal or no post. With Photoshop, I could easily achieve effects with more facility, but I stay with film because I believe it allows space and opportunity for extraneous / metaphysical forces to intervene during the picture making process. When photographing with film pre- Photoshop, there was a degree of intensity put into the picture making process, often shooting more versions, set-ups - because we never saw results during the session, and knew it could not be altered it afterwards.
Have you ever had experience with set design?
Not formally, only in a way that would serve a concept for a photo. I was putting together an elaborate 'dream/nightmare' set for the NY Times Magazine a few years back for an article about sleeping disorders. They liked the photo very much and made it into the cover. They asked whom to credit for set design. I answered, "me". They looked at me in disbelief, as they just finished a series with Gregory Crewdson who had a long list of set design credits.
The answer isn't an egoist one, but a result of the intuitive methods I employ in making sets and environments for my photographs. They are assembled on the spot just before the shooting, and often change dramatically from the original concept.
How do you enjoy teaching at SVA? What do you find students nowadays are drawn towards with subject matter or styling?
I have been teaching at SVA for nearly 20 years. Each year there is a different energy in the classroom, a changing mix of both international students and locals, which provides a more broad, less "New York centric" focus to the work we see.
I began teaching basic B&W darkroom techniques several years ago and it is fascinating to witness a group of digital natives confronting emulsions, chemistry and a protracted process of making a fine print; short attention spans put to the test.
But once they dial back the pacing, I've found they actually enjoy having a tactile relationship with the medium. They learn what a photograph consists of on a deeper plane.
What was it like working with Deborah Turbeville and also Irving Penn?
Working for photographers whose styles are iconic and highly recognizable was a concern, fearing that my own work might result in a 'light' derivative.
The Turbeville experience was the opposite of working with Penn, in that Penn's photos had a solid, weighty, sculptural quality, with a permanence about them— whereas Turbeville's were about transience and decay, fragmentation, deconstruction and being lost to time. So I hoped that I might avoid too much influence in my own work from either one, hoping that one would neutralize the other.
Angus McBean was, however, more of an influence on my work than either of them.
Are there any contemporary photographers you currently admire?
Currently I really admire the work of Jeff Wall.
Do you miss working in your studio at Carnegie Hall? Could you expand on the sensory experience felt there?
Looking back, I cannot help wondering whether I would be working in the staged set-piece style if it weren't for discovering that studio in 1985. I can't avoid feeling that destiny sent me there.

The space felt like a small theater and seemed to demand that I do set pieces; it became like an attic with a repertory company of objects, props and backdrops— ideal for endless pottering.
Most of all, the studios offered a community insulated from the chaos of the outside world. The artist tenants in the building became my inspiration, friends and family.
To experience more of Josef's spectacular pieces, you can visit his website here.
Interview, Ken Smart & Christy Rappold.